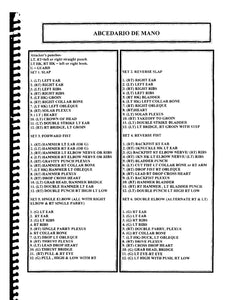 ABCEDARIO DE MANO 144 Basic Empty Hand Strikes. The foundation of Pekiti-Tirsia empty hand.
Runtime: 1 hour. 690 mb MP4 video file.
ATTN: PTI MEMBERS. Use your member discount code to receive 25% off the price of this product. To get your discount, just add this year's member discount code in the DISCOUNT box during checkout and click APPLY.
ABSOLUTELY NO REFUNDS GIVEN FOR DOWNLOADED VIDEOS.
ALL SALES FINAL.
NOTE: This video was filmed in the 1990s on VHS tape and then digitized many years later. It is NOT modern HD quality. To view samples from these old PTI videos, visit the Basic Videos playlist on Tuhon Bill McGrath's youtube channel:
https://www.youtube.com/@TuhonBillMcg/playlists