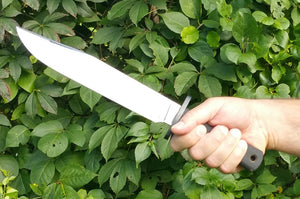 Bowie Seguidas Set 1 video.
*NOTE: This video is a version of the 1st set of Pekiti-Tirsia Seguidas, modified for a medium blade such as a bowie knife. Although this version is less complex than the full Seguidas, it should still be considered an intermediate set in Pekiti-Tirsia training. Therefore, it is strongly recommended that you become proficient in PTI's 5 Attacks Subsystem or the 64 Attacks before purchasing this video.
Runtime: 30 minutes. 95mb MP4 video.
 ***ABSOLUTELY NO REFUNDS GIVEN FOR DOWNLOADED VIDEOS. ALL SALES FINAL.