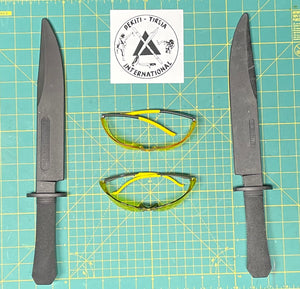 This kit contains:
Download of the Bowie Seguidas video. (details below).
2 Cold Steel Rubber Training Bowies.
2 Pair of polycarbonate safety glasses.
The training tools and polycarbonate safety glasses in this set are intended for the slow practice of forms and drills, while under the supervision of a qualified instructor.
Warning! The contents of this kit are not intended for full contact sparring without the addition of appropriate protective gear. In addition, sparing should be done only while you are under the supervision of a qualified instructor.
When downloading a video, please make sure your browser  security settings do NOT block "pop up" windows, as this is how the download window for the video loads onto your screen. Your rubber training bowies & safety glasses will ship separately, since these are physical items.

PTI Members: Use your member discount code to receive 25% off the price of this product. To get your discount, just add this year's member discount code in the DISCOUNT box during checkout and click APPLY.

NOTE FOR INTERNATIONAL CUSTOMERS: You MUST choose an international shipper and shipping rate when purchasing this package. USPS First Class Mail is for domestic packages within the US and your package can not be shipped at this rate.
ABSOLUTELY NO REFUNDS GIVEN FOR DOWNLOADED VIDEOS.
ALL SALES FINAL.