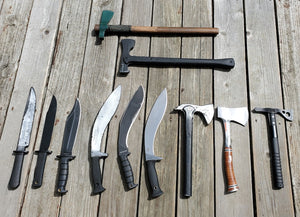 ABCEDARIOS WITH 3 WEAPON CATEGORIES.
Abcedarios with the following weapons/tools:
(7 sets,12 techniques in each set)

Heavy Bowie Knife in Corto range, Lightweight Bowie Knife in Largo range,
Heavy Kukri in Corto range, Lightweight Kukri in Largo range,
Heavy Hatchet, One Handed Tomahawk, Two Handed Tomahawk.
This video explores the differences in how these weapons/tools can be used for self defense based on their differences in design.

Run time: 70 minutes. File size: 873 MB MP4 video file.
PTI Members: Use your member discount code to receive 25% off the price of this product. To get your discount, just add this year's member discount code in the DISCOUNT box during checkout and click APPLY. . 
DISCOUNT CODE INSTRUCTIONS

Add the video to your cart.

On the "CHECKOUT" page, enter the discount code into the "DISCOUNT" box.
Click "APPLY". The discounted price should now appear and you can complete the purchase.
1. When downloading a video, please make sure your browser security settings do NOT block "pop up" windows, as this is how the download window for the video loads onto your screen.
2. When you copy the code, please do not copy a blank space along with it, as the cart software will see the space as a character and not accept the code.
3. Make sure you have enough free space on your device, plus a bit, before you begin your download.
 PART 2: https://pekiti.com/products/learning-through-comparisons-part-2
PART 3: https://pekiti.com/products/contradas-recontras-with-3-weapon-categories
THIS VIDEO IS INTENDED EXCLUSIVELY FOR PEKITI-TIRSIA PRACTITIONERS WHO ARE ALREADY FAMILIAR WITH EITHER THE 5 ATTACKS SUBSYSTEM, OR THE SOLO BASTON ABCEDARIO AND THE USE OF ALL PROPER SAFETY EQUIPMENT AND PROCEDURES. 
ABSOLUTELY NO REFUNDS GIVEN FOR DOWNLOADED VIDEOS.

ALL SALES FINAL.