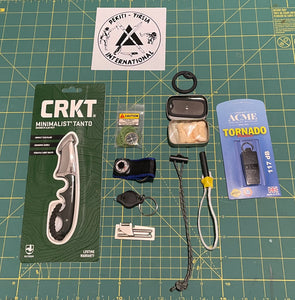 MINIMALIST SURVIVAL KIT

In addition to the survival kit, this package includes two (2) Pekiti-Tirsia videos of your choice (please add your video choices in a note with this order. You will be sent a download code after the order is processed).
Non-PTI members may choose any two Basic PTI videos.
PTI members may also include Advanced/Seminar videos as their choices (please choose among subjects you have had a class in).

This survival kit contains:

(1) CRKT MINIMALIST TANTO (specs below)
(1) Button Compass on neck lanyard
(1) Keychain Thermometer
(1) Keychain Flashlight
(1) Small Tin
(1) Dog Tag Metal Mirror
(1) Four pack of Tinder Quik Fire Starters
(1) Ferrocerium Rod Toggle
(1) 2" Ferrocerium Rod
(1) P-51 Can Opener
(1) Acme Tornado Whistle

CRKT MINIMALIST TANTO:
Blade Length: 2.125 inches
Blade Thickness: 0.11 inches
Overall Length: 5.13 inches
Blade Material: 5Cr15MoV
Blade Style: Tanto
Handle Material: Micarta
Carry System: Glass Filled Nylon Sheath w/Belt Loop & Cord
Weight: 1.6 ounces

NOTE FOR INTERNATIONAL CUSTOMERS: You MUST choose an international shipper and shipping rate when purchasing this package. USPS First Class Mail is for domestic packages within the US and your package can not be shipped at this rate.
ATTN: PTI MEMBERS. Use your 2023 Members Discount code to reacive a 25% discount off the price of this item.
PTI MEMBER DISCOUNT CODE INSTRUCTIONS

Add the item(s) to your cart.

On the "PAYMENT" page, enter the discount code into the "DISCOUNT" box.

Click "APPLY". The discounted price should now appear and you can complete the purchase.

1. When downloading a video, please make sure your browser  security settings do NOT block "pop up" windows, as this is how the download window for the video loads onto your screen.

2.  Please use only ONE discount code per order.

For example, you may use your PTI member 25% discount code to order several videos or other items that use that code in the same order; but the system will not recognize  any other codes if used in the same order as the 25% code.

3.  The Advanced Seminar videos use a different code than the 25% PTI member discount code. Each seminar video uses a different code.

4. When you copy the code, please do not copy a blank space along with it, as the cart software will see the space as a character and not accept the code.

5. Make sure you have enough free space on your device, plus a bit, before you begin your download.