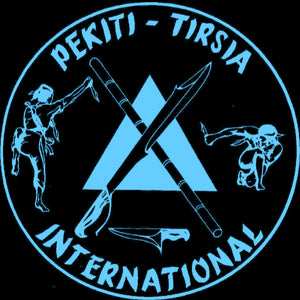 PTI membership kit with four Yakan level videos.
Package includes:
One (1) Official PTI Test Book
One (1) PTI T-Shirt. Note: We are out of stock of 2XL T-Shirts and do not expect to have any more in soon. 
One (1) pair of safety glasses.
One (1) Cold Steel Training knife.
The PTI videos that are included with this package are:
Y-1 Basic Kickboxing.
Y-2 Solo Baston 5 Attacks Subsystem.
Y-3 Doble Baston 12 Attacks.
Y-4 Hand vs Knife, Level One.

PTI member benefits include discounts at PTI sponsored training camps, 25% off select PTI videos, plus one free test per year at a PTI seminar or camp.

NOTE* Your PTI Discount Codes, with instructions for its use, will arrive in an email while your membership package is being prepared for shipment.
 NOTE FOR INTERNATIONAL CUSTOMERS: You MUST choose an international shipper and shipping rate when purchasing this package. USPS First Class Mail is for domestic packages within the US and your package can not be shipped at this rate.